Mollifix Racerback Seamless Bra - Multi Colour
Price

RM200.61

Product SKU
EMX51001
Brand
Mollifix
Size (L x W x H)
5 cm x 24 cm x 44 cm
Availability
544

Colour

Size

Quantity
Description
Highlight
- Brand: Mollifix
- 100% wireless: pain-free and mark-free
- Certified safe for skin: Non-itchy and anti-irritant
- Made of 85% nylon and 15% spandex
- Color available: Coral Pink+Brown/Black/Light Grey/Blue/Violet/Light Orange/Lake Green
- Size: S/M/L/XL/XXL
- Impact: Support
Mollifix Racerback Seamless Bra - Multi Colour
Product Description:
Racerback Seamless Bra to replace your daily bra. 100% crafted wireless. Pain-free and leave no mark after the whole day. Complete with a fixed 3D pad that provides support while shaping the chest to keep it push-up, full, and centered. Certified safe for the skin so it doesn't itch and is anti-irritant.
- Your daily bra replacement
- 100% wireless: pain-free and mark-free
- Certified safe for skin: Non-itchy and anti-irritant
- Made of 85% nylon and 15% spandex
- Brand: Mollifix
- Color available: Coral Pink+Brown/Black/Light Grey/Blue/Violet/Light Orange/Lake Green
- Size: S/M/L/XL/XXL
- Impact: Support
Kind reminder:
1. If you have any discomfort while wearing it, please stop using it immediately
Washing guide:
1. Please wash with water below 30 degrees Celsius and use a neutral detergent.
2. After washing, please twist the shape gently and place it in a cool place to dry.
3. Please use the hand-washing method to prevent the washing machine from destroying the elastic fibers.
4. Do not place it in the washing machine to stir and spin. Do not use bleach, softener or ironing.
5. Use non-toxic and non-polluting non-azo dyes. It is normal to have color spitting during washing. It is recommended to wash it separately from light-colored clothes. It is recommended to rinse with water before first wearing.
Reminder:
1. For the measurement of the lower bust, please use the under-chest measurement close to your body. If it is not convenient to measure, please refer to the size of the underwear you usually wear.
2. It is most accurate according to the lower bust and cup. Please measure it before selecting the size. If you are unable to judge, please contact customer service before placing an order.
Dimension measurement method:
Upper bust The horizontal shoulder width of the breast nipple point
Under bust A horizontal distance under the chest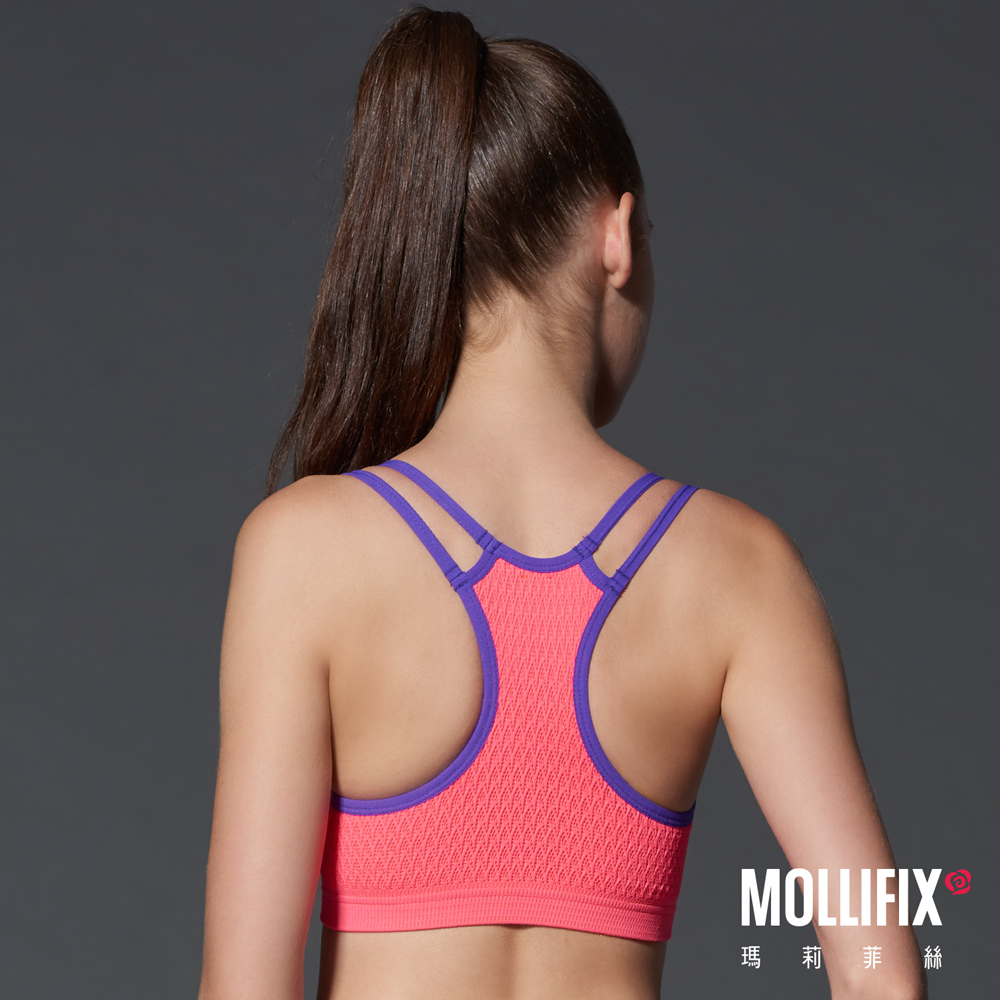 What's in the box
1 x Mollifix Racerback Seamless Bra